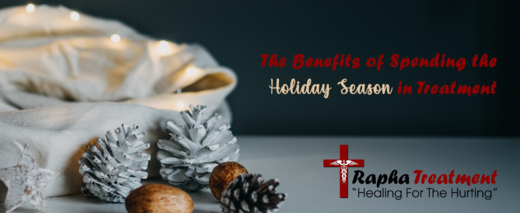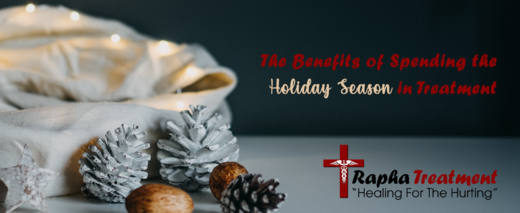 Spending the Holiday Season in Treatment?
I will admit, spending the holiday season in a drug and alcohol treatment facility does not sound appealing. Spending this time away from your family is difficult during this time. Recovery is a process and your sobriety is a gift that takes time and sacrifice. Sometimes, this process can mean that patients will remain at inpatient care during the holidays. You should choose rehab over the holidays if:
You're having trouble staying sober
You don't know how to deal with family situations while staying sober
You need extra support in recovery
You need to detox
You want to give yourself the gift of sobriety
Your loved ones are worried about your recovery
While staying in treatment over the holidays can be tough, you'll never be alone. Patients at Rapha Treatment Center experience incredible benefits of inpatient treatment over the holidays, including:
A supportive recovery community
Safe medical detoxification
Freedom from drugs and alcohol
Attainment of sobriety
How Will Our Clients Benefit?
Before you write it off as an option, consider the benefits of completing an inpatient treatment program during the holiday season.
You can avoid triggers and harmful situations.


People are more likely to abuse drugs and alcohol during the months of November and December and they are also less likely to get help for their addiction. Unfortunately, drinking and celebrating in excess are often accepted behaviors during this time of year. This can be a very dangerous environment for individuals who are struggling with addiction and dependence. To make matters even worse, the holidays can also dredge up memories and feelings associated with past drug use with certain sights, sounds, and holiday traditions. These triggers can be difficult to face without additional support while in early recovery.

Spend this time to reflect.


Spending the holidays in a treatment center is the perfect opportunity to reflect on past holidays, your behaviors, and focus on what you want to change. Maybe last Christmas wasn't the best time for your family because you spend it in a haze that you do not remember. Maybe your family avoids talking about last Christmas because you couldn't control yourself at your loved one's company function. These memories may be difficult and painful to think about, but they serve as great motivation to spend this year's holiday season changing your lifestyle for the better. Addiction doesn't have to ruin all your family memories and functions—you can be free of it by taking the time to focus on your mental, physical, and spiritual wellness. Use this time to reflect and take responsibility for your actions as you pursue a new life in recovery.

Celebrate with people on their own path to recovery.


The thought of spending your holidays in treatment without your family may make you feel lonely and isolated, but the opposite couldn't be more true. At Rapha Treatment Center, you'll be surrounded by friendly staff and people in recovery, just like you. We are all right here with you to celebrate the holidays and celebrate your newfound sobriety. While it's natural to miss your family during the holidays, you should know that you're here for a great reason and that your loved ones appreciate the sacrifice you're making to better yourself.

Learn how to celebrate sober in a safe environment and prepare for next year.


Celebrations are typically associated with the overconsumption of food, alcohol, and/or illicit drugs. Individuals in early recovery will have a much more difficult time resisting all the temptation that comes with the holiday season because they haven't spent a significant amount of time sober yet. Instead of putting yourself right back into the fire, we highly recommend giving yourself some time to adjust to your new, sober lifestyle and sit this year's celebrations out. Give yourself the opportunity to celebrate Christmas and the New Year in sobriety with your peers in treatment and our friendly staff. This is the perfect time to celebrate the season without the influence of drugs and alcohol.

You are the best gift you can give.


In the midst of your addiction, your actions most likely caused your family a great deal of pain, stress, and frustration. Addiction is an extremely destructive disease that not only affects you, but also all of your family members, friends, and coworkers around you. Rather than giving your spouse, children, or parents a physical gift, why not give them something life-changing like your sobriety. This is a gift they will always remember and cherish, even if you can't physically be with them this Christmas.
Your loved ones want the best for you, and they do not want to watch you struggle with drugs or alcohol over the holidays. If you're ready to find your sobriety, you need the help of professional treatment programs. Rehab over the holidays can be a supportive experience that changes your life. Best yet, your sobriety is an incredible gift you can give yourself and those you love the most.
It's time to get sober. Call us today at 256-538-7458 to get started.