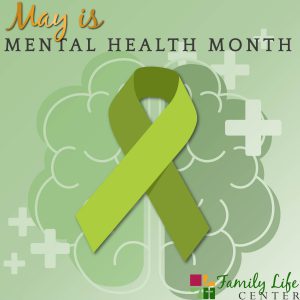 May is Mental Health month and we at Family Life Center are working to raise awareness.  Did you know that 1 in 5 people experience a mental illness during their lifetime?  Things right now are far from normal.  Coronavirus has shut us indoors away from our regular daily lives and social interactions.  While this isolation is needed and so incredible important, it can have a negative impact on mental health beyond what we would normally see.  Check in with yourself and your loved ones – Mental illnesses are real, and recovery is possible.
This May Family Life Center is joining Mental Health America to highlight #Tools2Thrive – what individuals can do daily to prioritize their mental health, build resiliency in the face of trauma and obstacles, support those who are struggling, and work towards a path of recovery.
Each individual has different tools and routines that keep them mentally healthy.  Finding what works may not be easy, but it can be achieved.  We'll be exploring #Tools2Thrive – recognizing and owning your feelings, finding the positive after loss, connecting with others, eliminating toxic influences, creating healthy routines, and supporting others – as ways to boost the mental health and general wellness of you and your loved ones.
One of the easiest tools and best first steps anyone can take is to complete a fast, free, and private mental health screening test.  We recommend visiting mhascreening.org to take advantage of their free screenings.
We hope you join us to raise awareness and extend a helping hand to those who need extra support during this challenging time by sharing our tips on Facebook, Instagram, Twitter, and LinkedIn.