Alabama Addiction Recovery Events for 2023
September is National Recovery Month, a time to recognize and celebrate the achievements of individuals who have overcome or are currently in recovery from substance use disorders. It is also a time to raise awareness of the importance of treatment and support for those who are struggling with addiction.
At Family Life Center, we prioritize recovery and recognize that the recovery community is vast and capable of helping many people. To contribute to this effort, we offer one-day anger management classes once a month at our Scottsboro office to assist individuals in our community in developing happier and healthier lives. Furthermore, our offices have an open-door policy during office hours, where anyone can visit us to access helpful resources or find a willing ear.
These events provide opportunities for individuals in recovery, their families, and the broader community to come together, show support, and learn more about addiction and recovery. If you or someone you know is struggling with addiction, these events can be a great source of inspiration, encouragement, and a way to connect with others who are on the same journey.
Here are some Addiction Recovery events taking place in Alabama in 2023 to celebrate and support Recovery Month:
---
What Does Treatment Look Like?
Partnership for a Drug Free Community – Community Conversations
Partnership for a Drug-Free Community is hosting a series of Community Conversations to discuss the different paths to treatment and recovery.
The meetings will provide information to help you understand how treatment works or determine what type of treatment may be the right direction for you or a loved one.
Hear from state-funded treatment options, both faith-based and private treatment options as well as sober living homes. Take the opportunity to find information on local providers in Alabama.
Pick the Thursday that works best for you!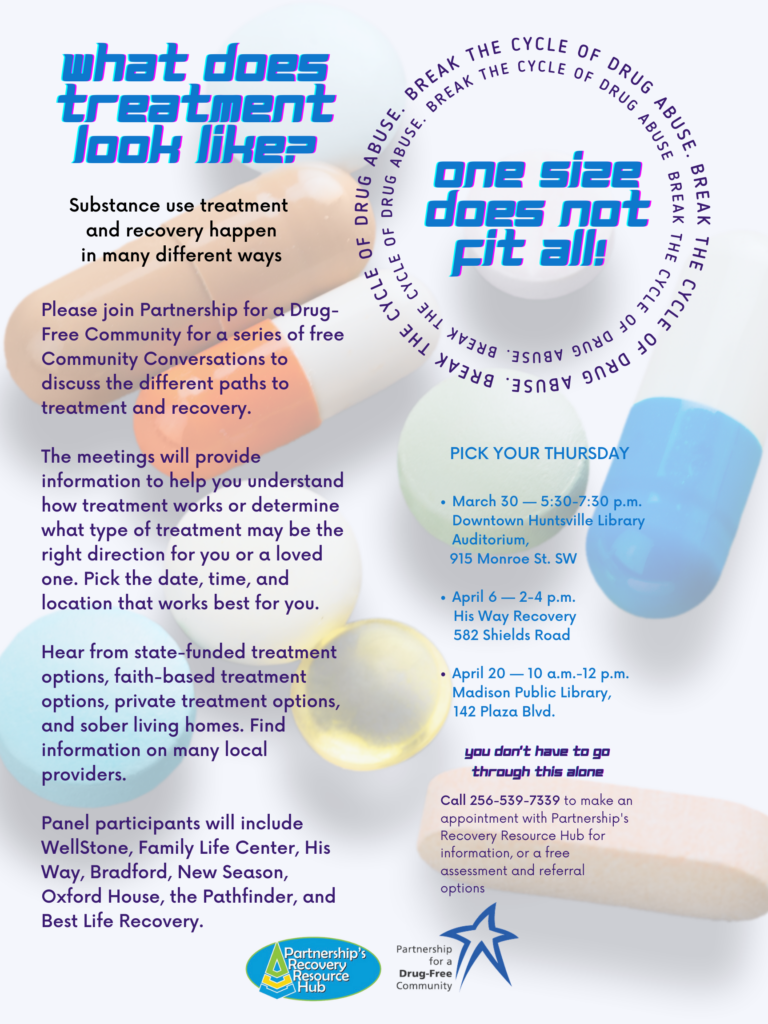 March 30 – 5:30-7:30pm
Downtown Huntsville Library Auditorium
915 Monroe St. SW
April 6 – 2-4pm
His Way Recovery
582 Shields Road
April 20 – 10am-12pm
Madison Public Library
142 Plaza Blvd.
---
Spring Into Recovery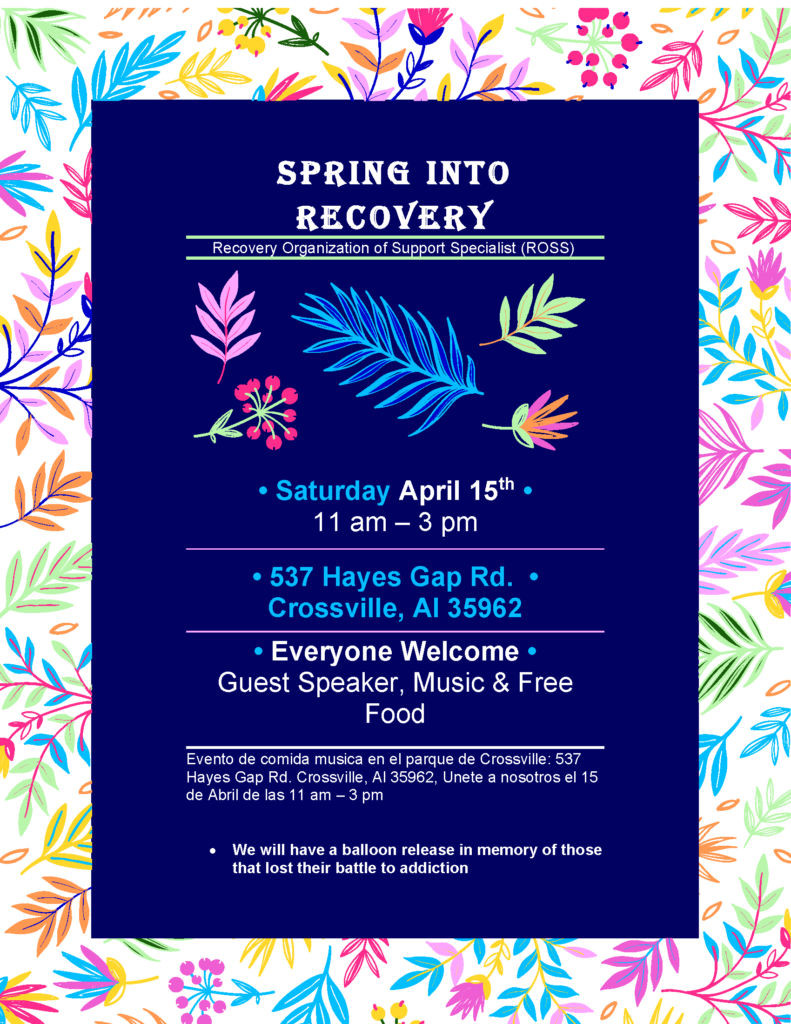 Recovery Organization of Support Specialists (ROSS)
Everyone is welcome to this event with a guest speaker, music, and free food!
Saturday, April 15 – 11am-3pm
537 Hayes Gap Rd. Crossville, AL 35962
---
Not One More Alabama
Recovery at the River 2023 – Coming May 7, 2023 at Ditto Landing – more details to come! Please check back!
End Addiction HSV Walk – Coming August 12, 2023 at Big Spring Park – more details to come! Check back soon!
Grief Support Workshop – Coming Oct 13-15, 2023 at The Vision – more details to come!  Please check back!
---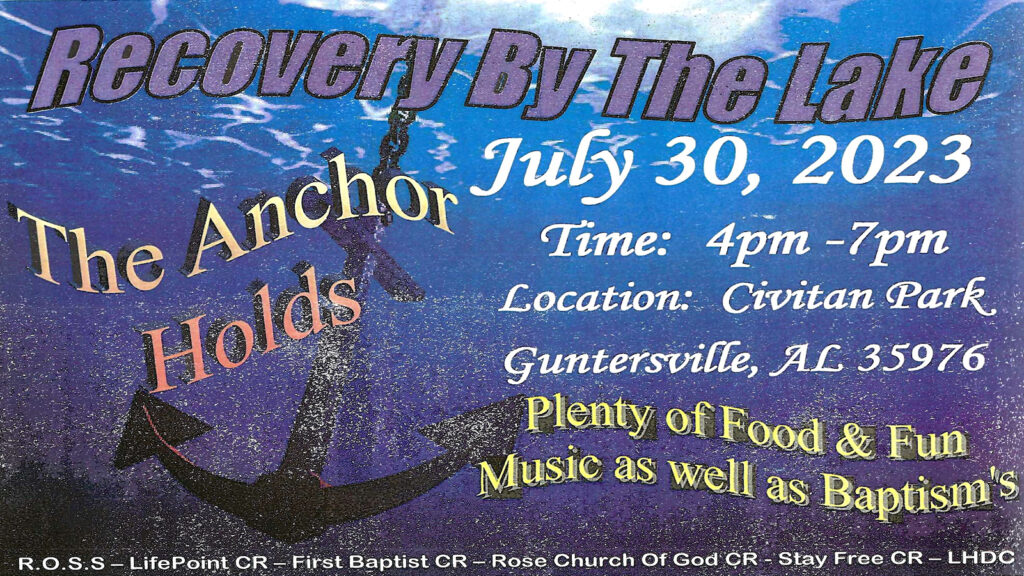 Recovery by the Lake
Plenty of Food, Fun, and Music as well as Baptisms.
Sunday, July 30 – 4pm-7pm
Civitan Park, Guntersville, AL 35976
---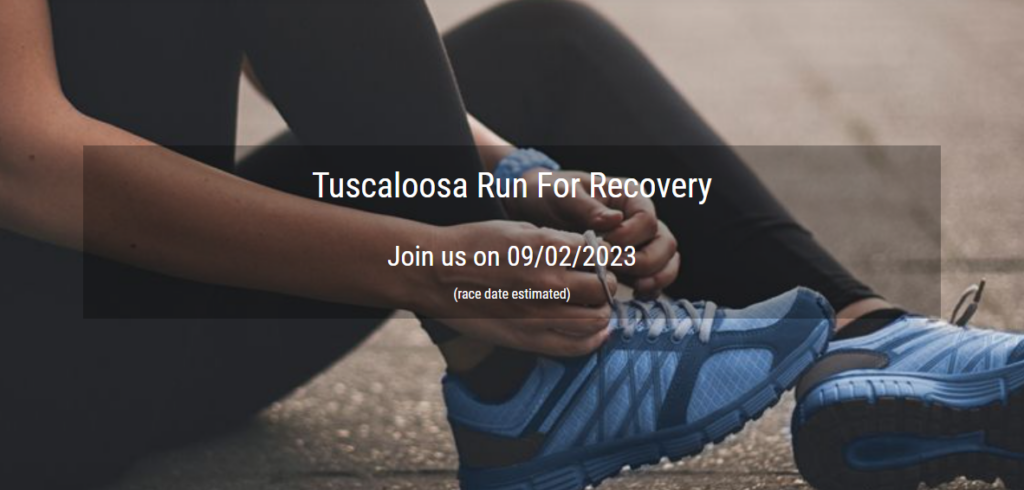 September 2nd – Tuscaloosa Run For Recovery
When: Saturday, September 2nd, 2022
Where: Tuscaloosa, Alabama
Event Details: "The Annual Tuscaloosa Run for Recovery highlights the fact that recovery from addiction to alcohol and drugs is attainable and celebrates the joy of living a fulfilled and healthy life free from substance use. With September being National Recovery month, our goal is to reach out to the community, raise awareness, generate interest, and take a proactive approach to offering support and solutions to everyone impacted by addiction. We want to change the stigma of shame and darkness that have grown synonymous to those individuals with substance use disorder and replace it with the image of those individuals experiencing hope and healing in recovery. Recovery is a perpetual, lifelong process, and by running and walking together we show our united support for all of our family members, loved ones, neighbors and friends who are making that daily effort to maintain long-term recovery. Proceeds will go to recovery-based scholarships benefiting program participants at the residential treatment facility Phoenix House, Inc." – https://www.raceentry.com/tuscaloosa-run-for-recovery/race-information
---
2nd Annual Many Pathways of Recovery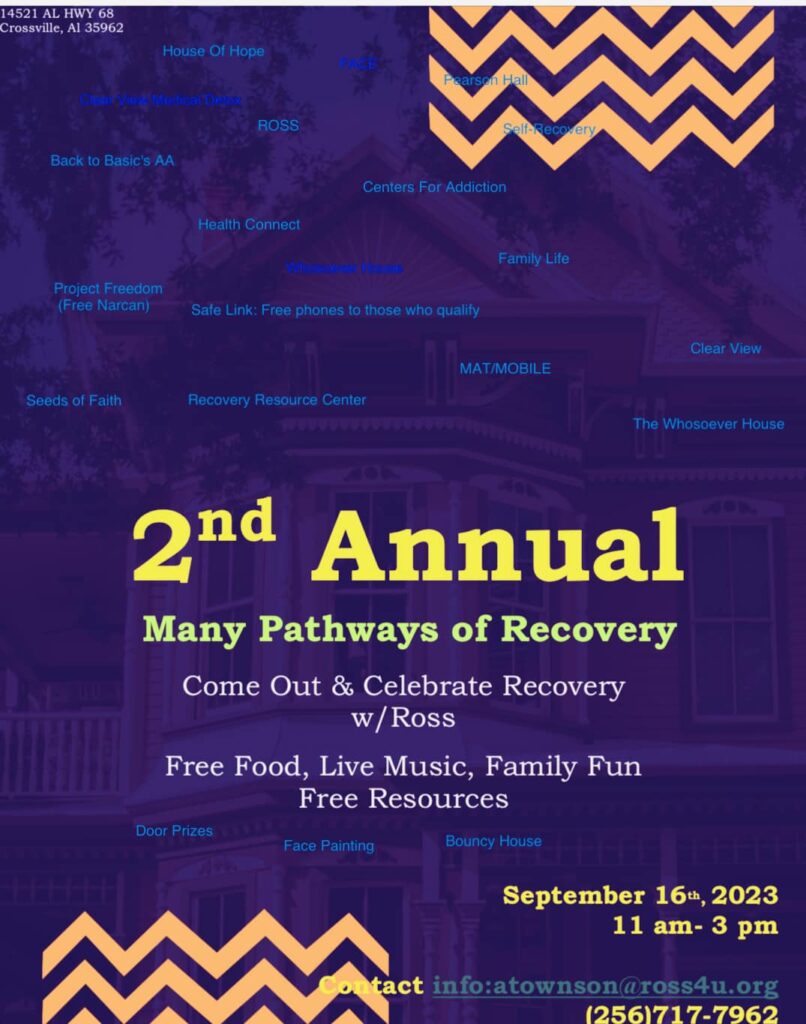 Recovery Organization of Support Specialists (ROSS)
Free food, live music, family fun, and free resources!
Saturday, September 16 – 11am-3pm
14521 AL HWY 68
Crossville, AL 35962
---
Is your event missing from this list?
Do you know of an event we missed? Let us know and we'll add it to this page!