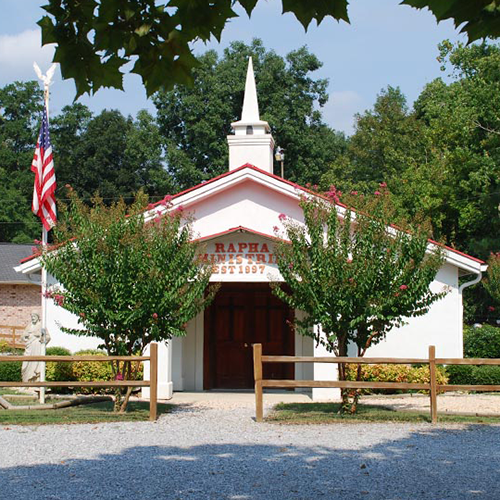 Rapha Treatment Center is a private, non-profit, faith-based drug and alcohol treatment center for men. Our program is certified by the Alabama Department of Mental Health. Rapha was incorporated and began rehabilitation services in August 1997 as a 30-bed facility. Today, Rapha Treatment Center is the largest (54 beds) faith-based residential drug and alcohol treatment facility in the state with low and high-intensity residential services offered on the same campus.
A phased program approach allows continuity of care for up to one year of continuous residential recovery and facilitates a Recovery Oriented System of Care (ROSC). Rapha Treatment Center has grown to become a vital link to the City of Gadsden and the Etowah County judicial/corrections system and an asset to surrounding counties and the state of Alabama.
To help you get to know Rapha Treatment Center, we have compiled a list of frequently asked questions that we have received over the years.
---
Frequently Asked Questions
What is Addiction Treatment?
Addiction rehab is a clinical and therapeutic approach that works to help individuals modify their thoughts, attitudes, and behaviors so they can live fulfilling lives that are free from addiction. Rehab centers use specialized therapies and modalities to help clients prepare for reentry into society by breaking their mental and spiritual dependence on addictive substances, providing life skills training, and teaching them relapse prevention techniques.
How long is inpatient treatment?
Our program consists of three phases:
Phase 1: The average length of stay is 49 days.
Phase 2: The average length of stay is 4 months.
Phase 3: Open-Ended Aftercare
Please note the length of stay at Rapha is based on the individual needs of the client.
What do your program services include?
Our mission is to provide a long term recovery program for drug, alcohol addiction, unhealthy relationships, co-dependency behavior, serious marital conflicts, and loneliness.  This is done through challenging and instruction to our clients in the change in their lives that can be achieved by the power of God.  We provide the following services:
Psychoeducational and process groups and individual sessions to learn coping skills, with an emphasis on the client's personal responsibility
Anger Management classes
Financial Management classes
Twelve-Step recovery groups on campus
HIV/AIDS education and testing referrals
Employment assistance and vocational rehabilitation
Access to GED classes
Relapse prevention classes
What are your admission requirements?
Male, at least 18 years old
An Alabama Department of Mental Health approved substance abuse assessment may be completed at Rapha or prior to admission that indicates a Level of Care available at Rapha, either 3.5 or 3.1
Must be willing and able to participate in all program clinical activities and 12-step groups
Must be willing to submit to alcohol/drug screens on a regular basis and throughout your Rapha stay
Must be willing to work a full-time job, if able, and if referred to 3.1 Level of Care
What should I bring with me?
You will need:
Personal Bible
Notebook
Pen & Highlighter
Picture ID
Social Security Card
30-day supply of medication or valid prescription
Sheets, Pillow & Pillow Case, Blanket (Twin Size)
Personal Hygiene Items (without alcohol)
Bath Towels
Laundry Detergent
Quarters for Dryer/Vending
Casual Clothes sufficient for one week, including:

No more than 2 pairs of shoes, not including shower or work shoes
Socks & Underwear
Clothes Hangers
How much does your program cost?
We are in-network with BCBS and work with most major insurance companies. We do not take Medicaid or Medicare but we do have very competitive self-pay rates. One of our core values is making sure that our treatment program is highly accessible and affordable to those in need.  Our friendly and experienced admissions team can and will help you figure out what programming option is best to support you or your loved one's recovery.
Will I be able to see my family and my children?
Yes, family involvement is encouraged and visitations are on the first Saturday of each month from 12:30 to 3:30.  In addition, visitors can bring you approved items such as clothing, books, or hygiene products you may have forgotten.  Note:  We are not allowing visitors now due to COVID-19.
How do I get started?
Rapha Treatment Center employs a full-time staff that oversees the facility and clients 24 hours a day, 7 days a week. Our admission process is simple and easy. Simply call (256) 538-7458 to speak with one of our dedicated admissions team members or complete the form below.